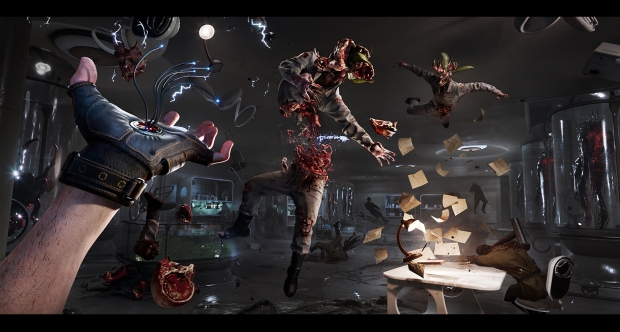 Atomic Heart looks explosively fun in chaotic new fight sequences
Atomic Heart is getting a new combat trailer that shows off awesome fights, creative bosses, and a unique world.
Atomic Heart is a rare species. Developed by Russian studio Mundfish, the game is an eclectic mix of Fallout, BioShock, Dead Island, and even Call of Duty elements. It's like someone put all of these franchises in a blender and injects carnage and explosive combat to deliver what looks to be one of the most fun games in years.
The new combat trailer exposes much of the fun factor the game is expected to deliver, including awesome powers that can deliver destructive combos, tons of guns that unleash pure mayhem, and a sci-fi style. rather enjoyable 1950s fiction that both embodies idealistic retro futurism and mixes in the harsh industrial toughness of the Soviet Union. Add some interesting enemies, hulking automaton bosses with the hammer and sickle stamped on them, and other weird robots and there's a unique recipe that might brew something special.
Mundfish has yet to assign a release date for Atomic Heart, but it's coming in late 2022. Check below for more info:
Get ready for the fight of your life. Choose optimal tactics for each unique opponent and use everything you can get your hands on, from special abilities provided by your combat gauntlet to heavy weapons of mass destruction. Combine defensive and offensive skills, interact with your environment and keep an eye on the enemy to ensure victory. With a wide range of upgrades for all firearms and melee weapons, you can crush anyone who stands in your way. Get ready – it's going to hurt!

Game Features

Stunning hyper-realistic graphics in a retro-futuristic style created with the latest visual technologies

The mysterious Soviet setting of the alternate world completely immerses you in the dystopian atmosphere

Unique Combined Battle System with Souls-Like Game Elements:

Use two weapons simultaneously: a multi-skill gauntlet and various weapon sets,

Combine melee attacks and ranged weapons in combat,

Interact with the world around you during battle.

The weapon crafting and modding system allows you to apply a wide variety of upgrades and mods to your arsenal.

Secret military dungeons and laboratories filled with puzzles, traps and other obstacles.

Dangerous enemies with various behaviors, designs and features that will test your skills

A captivating story, strong characters and an intriguing mystery that will keep you on the edge of your seat until the very end