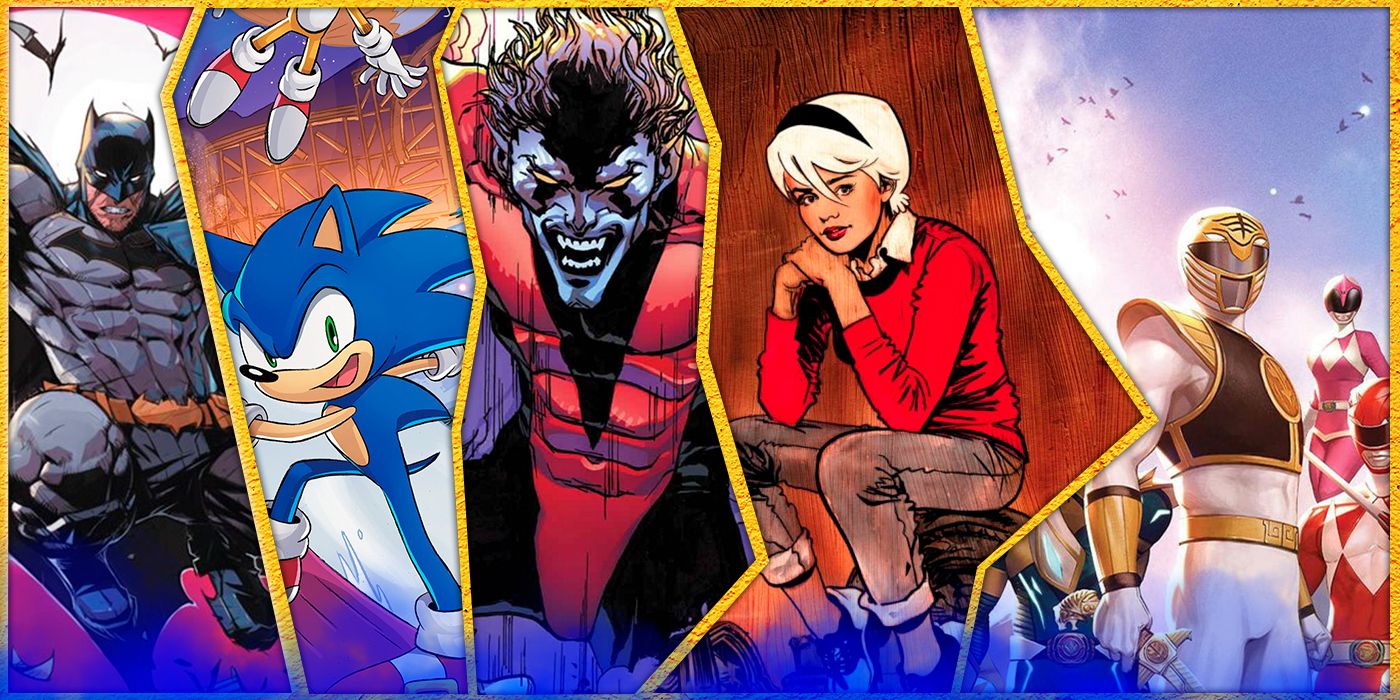 CBR's 100 Best Comics of 2021: 100-76
After a short five year hiatus, we are back with a long CBR tradition. At the end of the year, we polled the many CBR staff who make this site so awesome and asked them for their ranking of the best comics of the year. Every publisher releasing new comics in English, regardless of genre or format, was fair game; each individual list is then taken into account to determine the overall Top 100 that will be unveiled on CBR during that week.
Today we begin to unveil the list with entries # 100 through 76, with the countdown continuing each day this week. Here is the schedule (all Eastern hours): Tuesday, 12/28, 3 p.m .: Top 75-51; Wednesday 12/29/3 p.m .: Top 50-26; Thursday 12/30, 3 p.m .: Top 25-11; Friday 12/31/3 p.m .: Top 10; Saturday 1/1, 9 a.m .: Master list.
Start going through the list below, and if you are feeling so moved, take Twitter and (politely) discuss your thoughts using the hashtag # CBRTop100.
100. Checkmate
Written by: Brian Michael Bendis
Illustrations by: Alex Maleev, David Stewart and Lee Loughridge
Publisher: DC
This thrilling spy series continued the story of The Event: Leviathan by starring a motley team of DC heroes trying to save the world from the evil clutches of the massive criminal organization, Leviathan.
99. Red room
Written by: Ed Piskor
Art by: Ed Piskor
Publisher: Fantagraphics
A twisted look at a possible evolution of the Internet where the dark web is filled with "red rooms" where torture and murder are committed to the delight of a sick public. Is it too far to be stopped?
98. The honor of the scout
Written by: David Pepose
Art by: Luca Casalanguida and Matt Milla
Publisher: Aftershock Comics
In this post-apocalyptic world lives a group that still lives by a code … the Ranger Scout code. But as the story goes, if you build on a faulty foundation everything will fall apart, and when one of the greatest scouts uncovers the rot at the heart of the movement, what will she do to make things right?
97. Dead Dog Bite
Written by: Tyler Boss
Creation: Tyler Boss
This mysterious and dense comic rewards multiple readings with the level of detail that Boss puts into both the characters and the world they inhabit, a world tinged with a bit of nostalgia, a lot of weird humor and a lot slightly disturbing.
Publisher: Dark Horse Comics
96. Sonic the Hedgehog
Written by: Ian Flynn, Evan Stanley
Creation: Tracy Yardley, Evan Stanley, Matt Froese and Matt Herms
Publisher: IDW
Evan Stanley has joined Ian Flynn to give the regular Sonic series two compelling storytelling writers set in the SEGAverse as the book prepares to hit the 50th issue mark.
95. MODOK head games
Written by: Jordan Blum and Patton Oswalt
Art by: Scott Hepburn and Carlos Lopez
Publisher: Marvel
This gripping miniseries manages to force you to truly feel MODOK as we travel to the nastiest recesses of its mind… or Butterville, Ohio. It's hard to say which one is the worst.
94. Stargirl: Spring Break Special
Written by: Geoff Johns
Art by: Todd Nauck and Hi-Fi
Publisher: DC
The Stargirl creator has returned to the now TV star to tell a delightful new story embracing the best aspects of the DC Universe.
93. High school family
Written by: Ryo Nakama
Illustration by: Ryo Nakama
Publisher: Viz
High School Family begins when a young man learns that his father, mother, younger sister, and cat will all go to high school with him. Although this is primarily a comic manga, the story often ends up in heartfelt, thoughtful places where the characters grow up between each joke. – Christian Garnett, anime list writer
92. Gamma flight
Written by: Al Ewing and Crystal Frasier
Art by: Lan Medina and Antonio Fabela
Publisher: Marvel
This deliciously fun spinoff of Immortal Hulk has embraced the best aspects of the Marvel Universe with its fun and engaging spotlight on excellent but underused characters.
91. Mighty Morphin '
Written by: Ryan Parrott
Art by: Marco Renna, Dan Mora, Walter Baiamonte, Katia Ranalli, Sara Antonellini, Raul Angulo and Jose Enrique Fernandez
Publisher: BOUM!
BOOM! really gave readers the best of both worlds when he split the two Power Rangers books under the same author, as the strong sense of continuity makes it seem like while the two books tell very different stories, they share still a basic sense of the general Power Ranger universe.
90. Way of X
Written by: Si Spurrier
Art by: Bob Quinn and Java Tartaglia
Publisher: Marvel
What started as Nightcrawler's attempt to reconcile the kind of religion that was building around the X-Men slowly turned into a corruption investigation that had a massive reveal that could change the world of the X-Men from significantly.
89. Mouth-sized Archie
Written by: Ron Cacace
Creation: Vincent Lovallo
Publisher: Archie Comics
This charming new take on Archie's classic gag strip concept brings jokes into the modern era, but retains the classic joke styles, which never went out of fashion.
88. Ninjak
Written by: Jeff Parker
Art by: Javier Pulido (then Beni Lobel and Andrew Dalhouse)
Publisher: Vaillant
This series took an exciting and artistically fascinating new take on the proven spy concept with a quirky adventure series that made better use of the comic book format than 99% of the comics on the market today.
87. Dinos and comics
Written by: Jacques
Art by: K
Publisher: Dinosandcomics.com
These candid mental health life reviews have captured the hearts and minds of millions of people on the Internet.
86. Excalibur
Written by: Tini Howard
Art by: Marcus To and Erick Arciniega
Publisher: Marvel
Excalibur continues to spin a dozen different plates at once, balancing the interpersonal conflicts of the team itself (as Psylocke and Betsy Braddock are always going to have problems) with the highly political maneuvers of England and the 'Other world.
85. Batman: Urban Legends
Written By: Far too many to list them all, but the DC website has them all here.
Art by: Far too many to list them all, but the DC website has them all here.
Publisher: DC
This anthology spotlighting various members of the Batman Family is perhaps best known in 2021 for the story arc where Tim Drake realized he was bisexual.
84. The Chilling Adventures of Sabrina
Written by: Roberto Aguirre-Sacasa
Creation: Robert Hack
Publisher: Archie Comics
Horror fans got a special treat (no tricks) this year with the return of this delightfully twisted riff on the classic Sabrina the Teenage Witch character that had a major influence on the recent hit Netflix series.
83. Aquaman: Becoming
Written by: Brandon Thomas
Creation: Diego Olortegui, Skylar Patridge, Scott Koblish, Wade von Grawbadger and Adriano Lucas
Publisher: DC
Jackson Hyde embarks on a journey of redemption after his life has collapsed around him and hopefully he will eventually clear his name and earn the name Aquaman using everything he has learned during his life. life so far.
82. Dr Pierre
Written by: Riichir Inagaki
Art by: Boichi
Publisher: Viz
Things keep getting crazier and crazier in the wild world of Dr. Stone, as the scientific realms of Senku and Dr. Xenu are at odds and it will likely take all the "power of science" that Senku and his friends can muster. to keep Senku from being killed, not to mention defeating Dr. Xenu in this quirky adventure set in the distant future.
81. Power Rangers
Written by: Ryan Parrott and Rachel Wagner
Art by: Francesco Mortarino, Simone Ragazzoni, Moises Hildalgo, Simona Di Gianfelice, Gilbey Ibarra, Raul Angulo, Jose Enrique Fernandez, Igor Monti and Sabrina Del Grosso.
Publisher: BOUM!
Have the two main BOOM! The Power Rangers series shares a writer who particularly paid off at the end of the year, as the two series came together in an exciting crossover adventure.
80. Detective Comics
Written by: Mariko Tamaki
Illustrations by: Dan Mora, Viktor Bogdanovic, Daniel Henriques and Jordie Bellaire
Publisher: DC
The introduction of a big new villain in Mr. Worth and a fresh take on Gotham City made this Police comics run really does stand out in 2021, especially with the series of compelling save stories.
79. one piece
Written by: Eiichiro Oda
Art by: Eiichiro Oda and Gege Akutami
Publisher: Viz
Most English versions of A piece in 2021 followed a flashback to Kozuki Oden's early days on the seas, twenty years before the series' main storyline, but these adventures gave us new perspectives on the character of Oden while also introducing a number information on the overall history of the series.
78. Katie the catsitter
Written By: Colleen AF Venable
Art by: Stéphanie Yue
Publisher: Random House Children's Books
This delightful intro to Katie the Catsitter sees a preteen sit in a woman's apartment who may or may not be a supervillain, and her cats may or may not have various superpowers. When things are going well, can Katie be trusted to work with the cats to save their owner? Yes, yes she can, but it's always interesting how she gets to this point and HOW they do it!
77. We have demons
Written by: Scott Snyder
Illustrations by: Greg Capullo, Jonathan Glapion and Dave McCaig
Publisher: ComiXology Originals
Reuniting the classic Batman and Death Metal creative team delivered a delightfully fun new adventure of demons and demon hunters while spending a lot of time building the vast lore of this new world they've created. However, it never gets boring because the information you learn is exciting because you want to know more about it.
76. UltraMega
Written by: James Harren
Art by: James Harren and David Stewart
Publisher: Image Comics
This series is both a loving tribute to kaiju stories and a bit of a satire on the concept while upping it up by around 1000% in each issue. You never know what's going to happen next, in the best possible way.
Check back with CBR on Tuesday to learn more about the Top 100!
DC's Vampire Series Turns DCEU Suicide Squad Character Into Heroes
About the Author