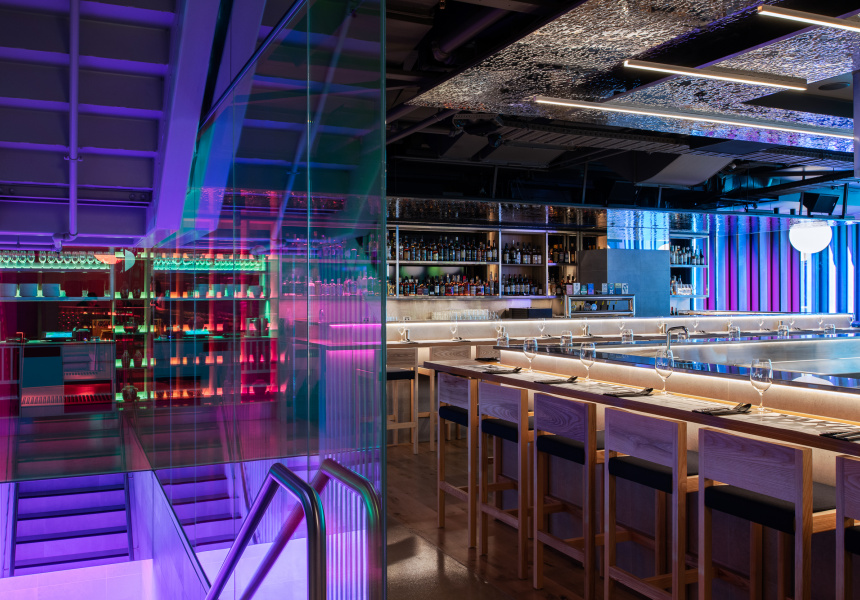 Channeling Tokyo's late-night Izakayas, Chris Lucas' Yakimono kicks off for the first time on November 5 – Here's what to expect
[ad_1]
November 5th will be huge for 80 Collins.
Not only is Chris Lucas reopening his flagship shoot-for-the-sky company, which we had less than a week to experiment with before Lockdown 6.0 – he's also laying down the last piece of 80 Collins' elaborate puzzle by opening up his charcoal. on two levels. -a Japanese restaurant on the fire, Yakimono, next door.
Although the team at the top is a little different. Last month, chef Martin Benn and butler Vicki Wild – whom Lucas lured to Melbourne from famous Sydney fine dining restaurant Sepia – announced that they had parted ways with Lucas Restaurants five days after opening. of Society.
The show continues, however. Drawing inspiration from the nighttime izakayas of Tokyo – and Lucas' affinity for Japan, where he lived for several years – expect a space that is at once kaleidoscopic, futuristic and endowed, we are told, " with a touch of Blade Runner 2049".
Yaki means "grill" in Japanese, so traditional charcoal cooking methods will dominate the offer. Everything will revolve around the expansive open kitchen, led by chef Daniel Wilson, offering diners a front row seat for the flame grilling action. (Wilson was behind the now-closed famous Fitzroy restaurant Huxtable and its Huxtaburger-derived burger joint.)
On sticks you'll find Wagyu intercostal (the meat between the ribs) glazed with smoked soybeans and shitake dipped in ponzu and yuzu oil. While more hearty dishes will include smoked eel udon with shimeji mushrooms and an onsen egg, and whole chicken glazed with miso, sprinkled with charcoal salt, as well as smoked chicken fat rice and spicy coleslaw.
On the menu: a mochi waffle with brown butter and salted macadamia praline, and a frozen "Yaki-kult" and raspberry sandwich.
Reservations open today for Yakimono, as well as Society's Japanese-style main dining room and lush private dining rooms, as well as the adjoining Eurocentric restaurant, Lillian Terrace. The company's bar and lounge, meanwhile, remains a walk-in location.
[ad_2]