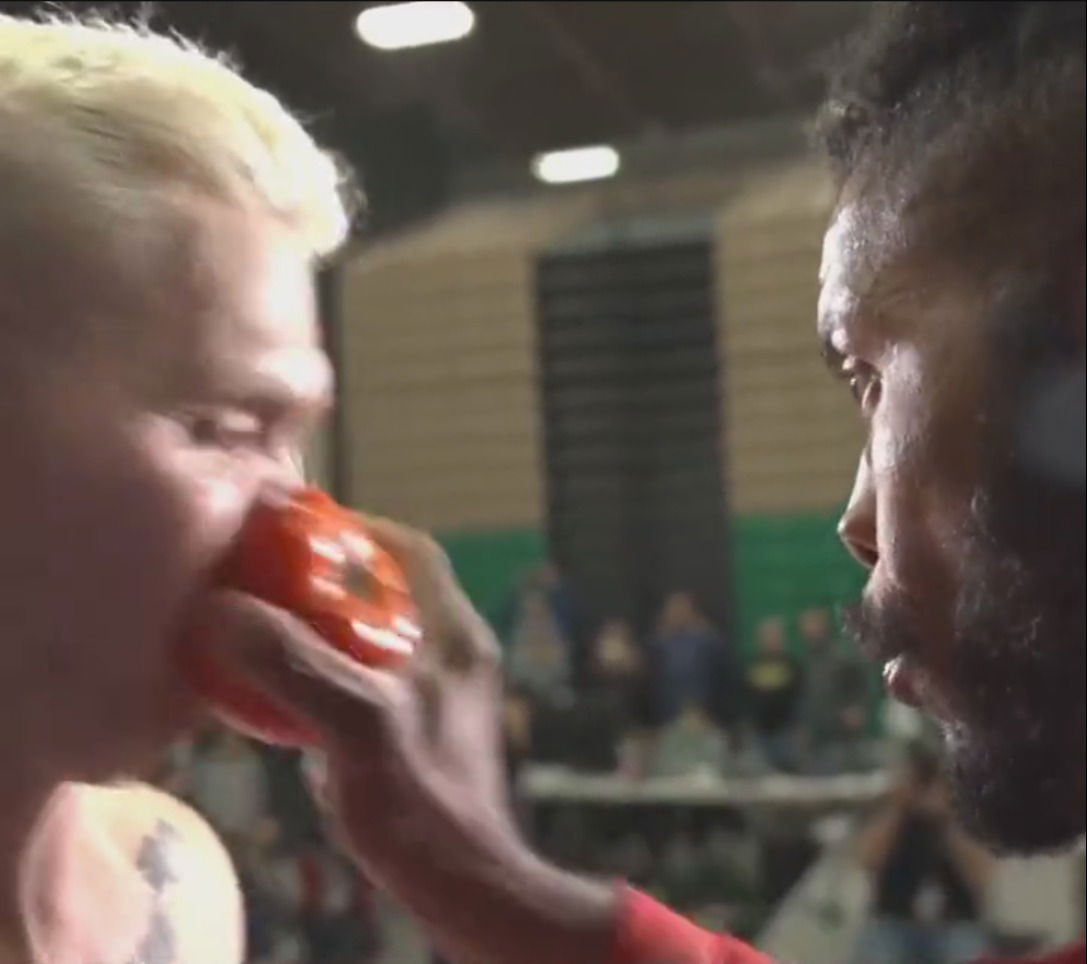 Controversial former UFC title challenger reacts hilariously as fighter shoves tomato in opponent's face
We saw all sorts of things happen at the weigh-ins, however, the ceremonial BKFC 24 showdowns that took place on Friday were interesting to say the least. Light heavyweight champion Lorenzo 'The Juggernaut' Hunt was scheduled to face challenger Joe Riggs. Things got wild when Hunt smashed a half-eaten tomato in his opponent Riggs' face.
ADVERTISEMENT
The article continues below this ad
Hunt brought a tomato as a prop for the face-off. He started biting into it and then shoved it in Riggs' face. It erupted into a fight and the two had to be separated immediately before things escalated further.
ADVERTISEMENT
The article continues below this ad
Riggs looked shocked and angry as he called Hunt "f**king c**t". Hunt didn't seem bothered and was seen laughing before continuing to pose for the cameras in the crowd.
DIVE DEEPER
This incident was truly bizarre and so fans on Twitter were quick to react.
Twitter reacts to the tomato incident
Twitter fans were quick to react to this video. It seems most of them weren't fans of what Hunt was doing. They reacted with disgust and their tweets prove it.
It's just rude. In fairness, Riggs should have been wary of the man munching on a tomato during a confrontation.

– Hardcore Casual (@HardcoreCasua10) April 30, 2022
😭 disrespect oh that should be a real good fight

— 𝕿𝖍𝖊𝕸𝖆𝖉𝕾𝖈𝖔𝖚𝖓𝖉𝖗𝖊𝖑 (@Shortstuffhere) April 30, 2022
this guy is grossly arrogant. it's gonna be hilarious if he gets knocked out

— TheWaysideΞ (@WaysideE) April 30, 2022
What a punk movement!! Come on Joe bust that nogging guy!! You have to teach him respect!

— Polar Bear (@mewhinney_ben) April 30, 2022
UFC middleweight title contender Paulo "The Eraser" Costa also reacted to the clip on Twitter. He hilariously tweeted, "When someone has an eye on my snack".
ADVERTISEMENT
The article continues below this ad
Riggs, an experienced fighter with over 40 career wins, will face Hunt, who is coming off a 4-fight winning streak at BKFC. The former UFC fighter will have a lot to prove as he enters this fight as an underdog. Winning this title will bring Riggs' career back to a high and put him back in the spotlight.
WATCH THIS STORY – Tyson Fury, Kamaru Usman, Dana White and More React to Mike Tyson Beating Drunk Fan on Flight
ADVERTISEMENT
The article continues below this ad
Saturday night couldn't have come sooner. Can Riggs end Hunt's winning streak, or will he be another pawn to fall? What did you think of this incident? Let us know in the comments below.