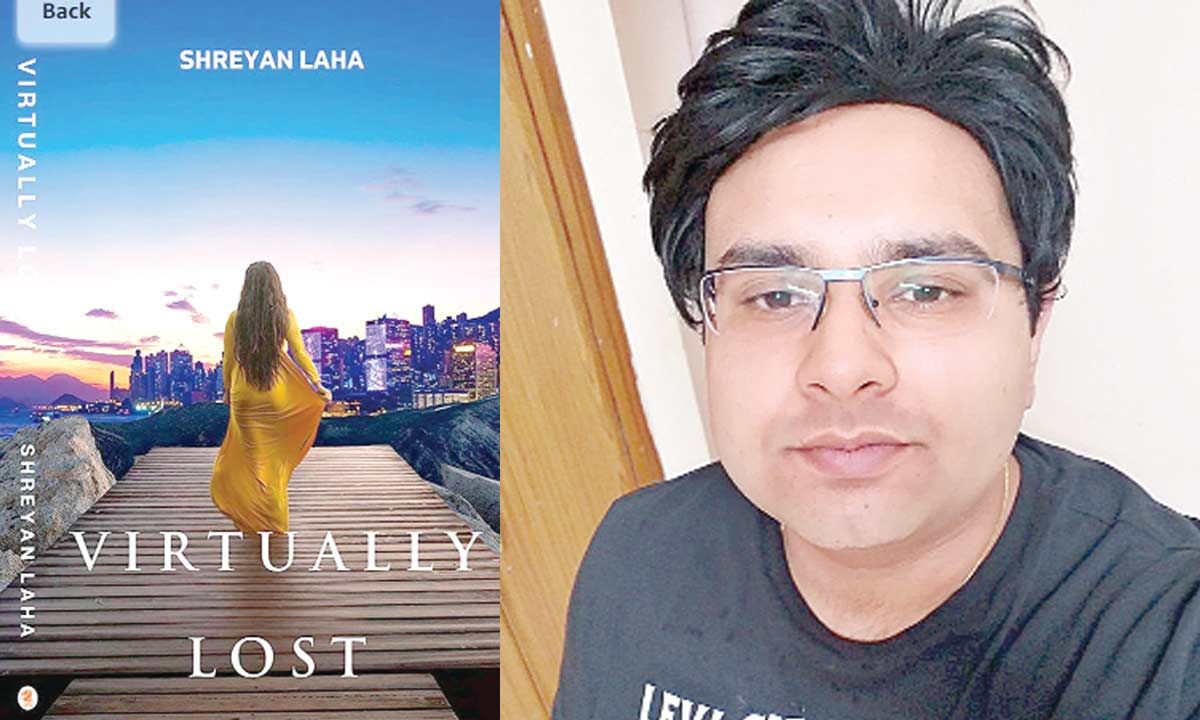 Experiencing virtual horrors through real pages
Social media is ubiquitous these days. While the power in the hands of an individual appears to be democratic, it often takes a wrong turn as it becomes confused with questionable morals and feelings. Additionally, there is an unprecedented itch to follow a trend or bad trolling.
Published by Griffin Publications, Shreyan Laha's latest book "Virtually Lost" provides insight into how people might behave if they were to replicate online behavior in the real world. Manisha, the protagonist and professor of psychology is lost in a hill station called Pathabhrashta.
As she tries to find a way out, she realizes that the citizens are nothing more than "real life profiles".
Moreover, the whole city is governed by the rules of social media and the government presents itself as an administrator. Terrifying is an understatement for what unfolds.
Imagine being the victim of 24/7 surveillance and the city police reading your thoughts while you're in your bathroom.
Pathabhrashta is an introverted realm. Everyone lacks social skills and goes outside to buy necessities only when necessary.
Those who engage in religious mental gymnastics engage in it in the most compelling and hilarious ways. For example, some people from Pathabhrashta believe in "Jupiterism".
Mention of the planet Jupiter is found throughout history – in ancient Hindu, Greek and Roman religions. With its massive gravity, it also acts as a literal savior of Earth from unwanted asteroid collisions. Also, unlike the other gods, Jupiter is verifiable.
The mere thought of such a possibility reassures its supporters.
With arguments that are several notches above the arguments of everyday godmen, the possibility of falling prey to an online "belief set", or even a trend, is much higher.
However, not everything in the city smells of impending doom. Everyone in the city has the right to do anything under the sun and is even rewarded by the government in the form of a form of currency called "monetriades", an allegory of what we call NFTs.
In fact, Virtually Lost has a repertoire of such allegories. For example, "What a piece of work", is the name of one of its chapters, a metaphor for the Shakespearian quote and how city administrators managed to reproduce real profiles.
Although Manisha is a strong female protagonist, there are other characters worth describing. Xaria, a sixteen-year-old teenager, shows how teenagers are shaped if they are too addicted to social networks. Xaria is one of the most fervent Jupiterists. She is much more well-mannered and logical than most humans. Yet, she has no idea about privacy and keeps pushing Manisha's mind until she is insulted by her. Aadyot is another interesting character; a genius child and one of the few people with a theoretical framework to escape Pathabhrashta, his dreams never came to fruition due to his physical disability. The challenges and vulnerability faced by wheelchair-bound Aadyot give us insight into the lives of people with disabilities.
Individualism, as a science fiction theme, was explored extensively between the 1940s phase and the 1970s phase. The likes of Fahrenheit 451 or Animal Farm provided us with a beacon for "individual thinking". Contemporary science fiction, on the other hand, is little speculative about the future. Although they have futuristic ornamental themes, they address the socio-political reality of the present day as they see fit in these future contexts.
While themes of individualism remain a rarity in contemporary science fiction, flipping through the crisp pages of Virtually Lost is nostalgia for avid followers of the genre.