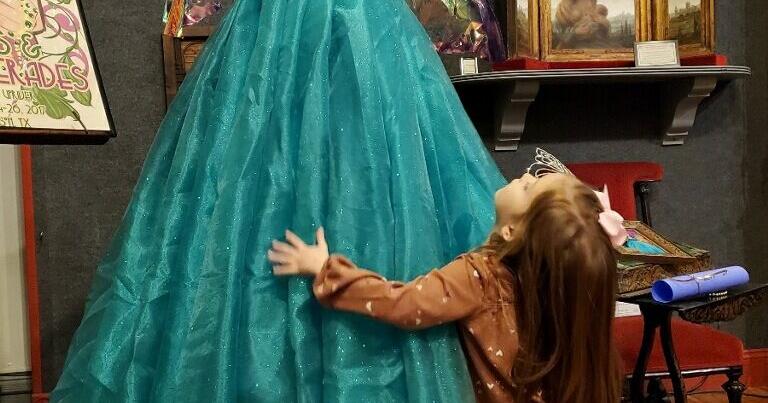 Jefferson Museum Opens New Mardi Gras Upriver Exhibit Ahead of Holiday Weekend | News
JEFFERSON — Guests at a Jefferson museum on Saturday were able to view a collection of the historic bayou town's annual Mardi Gras Upriver memorabilia from years past.
The Jefferson Historical Museum's first-ever "Robes, Wreaths, and Mardi Gras Art" exhibit will run from 9:30 a.m. to 4 p.m. daily through March 1. 25-27.
"This special exhibit features selected items from some of Jefferson's previous Mardi Gras celebrations," said Lisa Barry, board member of the Jefferson Historical Society and Museum Board. "It includes examples of clothing worn by past Mardi Gras queens, as well as artwork commemorating past themes that have been used as part of Jefferson's annual Mardi Gras festivities."
Some of these former Mardi Gras Upriver queens and kings came to the museum on Saturday to view their own items in the exhibit.
The exhibit begins just weeks before Jefferson's 32nd Annual Upriver Mardi Gras Parade and Event.
This year's Mardi Gras Upriver is themed "Steampunk Upriver," and the Krewe of Hebe's annual Queen Mab Ball took place Saturday night at the Jefferson Visitor's Center, where this year's king and queen were crowned.
This year's Mardi Gras Upriver theme, "Steampunk Upriver", is a carryover from last year's event theme which was canceled due to the ongoing 2021 COVID-19 pandemic.
To understand this year's Steampunk Upriver theme, one must understand the term "steampunk," in general, which describes an aesthetic that's best described as "Victorian-era science fiction."
"Both futuristic and retro, steampunk is truly one of a kind," describes the Steampunk Avenue blog. "The genre mixes 19th century aesthetics and technology with elements of science fiction. His literary and audiovisual works take place in an alternate reality where technological progress is based not on electricity, but on the steam engine.
The "Robes, Wreaths and Art of Mardi Gras" exhibit is included in the regular museum and museum admission price.
The exhibit is located inside the Jefferson Historical Museum, located at 223 W. Austin St. in Jefferson. For more information, call the museum at (903) 665-2775.
The Krewe of Hebe's annual Doo Dah Parade will kick off this year's festivities at 7 p.m. on February 25 in downtown Jefferson, followed that night by live music, carnival and stalls of sellers.
This year's grand parade will begin at 1:45 p.m. on February 26 in downtown Jefferson and the weekend event will include a carnival, vendors, crafts, shopping, food, music live and more.
This year's live music will be provided by the Darrin Morris Band at 7:30 p.m. on February 26. The annual Children's Parade will begin at 2:00 p.m. Feb. 27 through the streets of downtown Jefferson.
Wristbands for weekend access will be available for $10 each at the entertainment tent. One dollar from each bracelet sale will be donated to Krewe of Hebe's annual Marion County Toys for Tots program.
To find out more about the ball, the Upriver Mardi Gras weekend, including a full entertainment lineup and schedule of events, or to join the Krewe of Hebe, visit the website at www.mardigrasupriver.com.