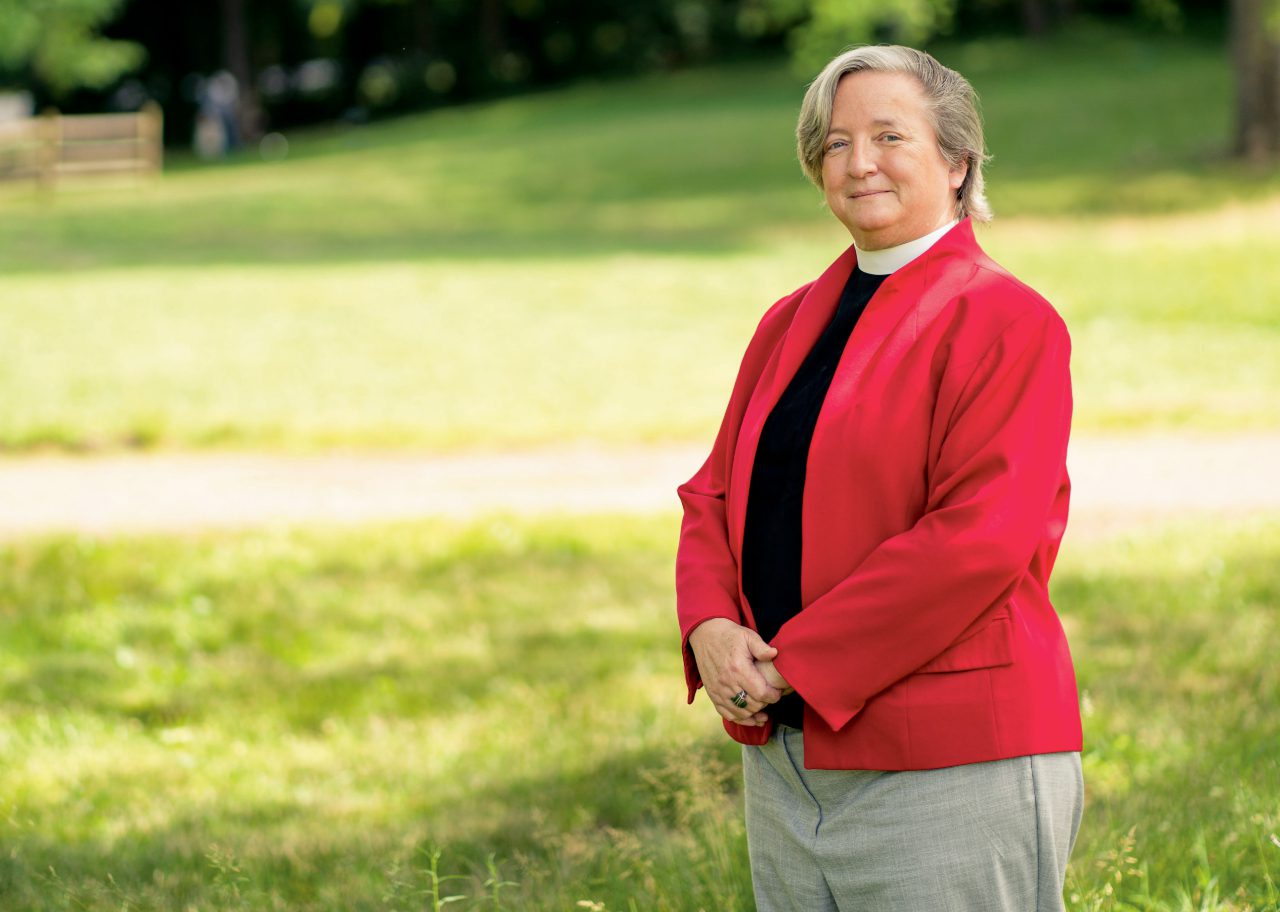 Katherine Hancock Ragsdale on the fight for reproductive justice
The Very Reverend Katherine Hancock Ragsdale is President and CEO of the National Abortion Federation (NAF), the professional association of abortion providers in North America.
Also an Episcopal priest, Ragsdale has served in parish ministry and as dean and president of Episcopal Divinity School in Cambridge, Mass.
As hundreds of members of Congress ask the conservative majority of the United States Supreme Court to consider overturning Roe v. Wade, the 1973 decision that established a woman's right to choose, Ragsdale and the NAF are in the midst of a crucial phase in the fight for choice. .
Ragsdale spoke with Roberta Staley about reproductive justice, religion and the record of her lifelong advocacy work.
Roberta Staley: In your 30 years of activism, what changes have you noticed?
Katherine Hancock Ragsdale: One thing that has really changed is that what was once marginalized, far-right rhetoric spoken from the margins is now heard in the halls of Congress, in the White House, and in state legislatures. They spew lies with diabolical, dehumanizing and false rhetoric. Which implies that doctors and pregnant women kill people through abortion, for example. And it's spreading in the news and social media. We've seen our violence and disruption statistics skyrocket.
Abortion has become a political tool that allows some politicians to build a radical and reactive base and get elected, even when a majority of their voters support abortion rights. It is horrifying to see women's lives being used as a pawn in the political agendas of others.
RS: How does religion play into this dynamic?
KRH: The religious right has been captured by the political right. And let's keep in mind that most major denominations and religious groups remain pro-choice, as the Episcopal Church has been since the 1960s.
RS: How can more progressive religious communities contribute to the broader pro-choice movement?
KRH: The radical fringe right has been so successful in stigmatizing and demonizing women. Our hotline gets calls from women saying, "I know I'm going to hell for this, but I have no choice. I have to have an abortion.
People who call themselves religious have created this climate. The faith community therefore has a key role to play in eliminating stigma and changing the climate to one of respect and honor for abortion providers and for women who make choices about their lives, which is exactly what that human beings, as moral agents, are called. to do.
---
Learn more about Broadview:
---
RS: Did you have a religious upbringing?
KRH: I was born in Virginia, and my family went to church because at the time there was one. My family was not very religious, but I was raised to care about justice and fairness and to treat people with dignity and respect. I think my parents were shocked when I decided to join the church.
RS: How did you come to this decision?
KRH: In 1976 I went to college and joined the Episcopal student body. I learned what a priest does and realized that I wanted to be one. Some of my early role models were the Philadelphia 11 and the Washington Four, groups of women who were ordained to the Episcopal priesthood in the mid-1970s before the General Denominational Convention explicitly authorized the ordination of women in 1976. .
My first year in seminary, my bishop passed away and my new bishop informed me that he would ordain women but not lesbians. It was then that I realized for the first time that I was in fact a lesbian.
RS: You married Reverend Mally Lloyd nine years ago. How does being a lesbian influence your fight for reproductive justice?
KRH: As a lesbian, an unplanned pregnancy was not something on my radar. I hadn't thought about abortion until I landed on the board of the Religious Coalition for Abortion Rights, now called the Religious Coalition for Reproductive Choice.
I realized that controlling women's reproductive freedom suggests that women are only good at two things: sex and procreation. And that has implications for how you're seen and treated in the world: women's lives don't matter except as accessories in men's lives.
And that's why a lesbian cares about abortion rights. Because when you reduce women to mere accessories in society, it affects all women.
RS: Can you tell me more about your time on the board of the Religious Coalition for Abortion Rights? What have you accomplished in these 17 years?
KRH: If you want an organization that cares for the underprivileged and especially women of color, then you have to fight for more than abortion rights. And that means paying attention to education, child care, living wages, health care, and other kinds of things that people need so they can choose to have children as well as not. to have.
True choice means not only the ability to choose an abortion, but also the ability to choose to bear and raise a child. The reality is that poor women have far fewer choices, and sometimes the only choice available to them is abortion because they lack the resources to care for a child. And in this country, unfortunately, poor women are disproportionately women of color.
RS: Are Canadian NAF members better off than their American counterparts?
KRH: Yes. You have government funding for health care. I know there are anti-abortion protests in Canada from time to time, and those can be very uncomfortable, but this constant, very threatening stuff that American providers put up with is, thank goodness, foreign to Canada.
RS: But it's not perfect here. What kind of changes would you like to see in Canada?
KRH: If you live in smaller, rural or remote communities in Canada, you will likely have to travel to get an abortion. So what we really want to see is to focus more on the availability of medical abortion. We work hard to train doctors, especially in more rural settings, in medical abortion – a combination of oral mifepristone and oral misoprostol – so they feel prepared.
We also try to do political work. There are many patients in New Brunswick who have to pay out of pocket, as the procedure is only covered when performed in hospitals. In Ontario, only some of the community clinics receive operating funding from the province.
RS: Critics have called you "the high priestess of abortion." How does being regularly denigrated and attacked make you feel?
KRH: It's one of the least offensive things they've called me. When I became president of the Episcopal School of Theology, a title read, "Baby Killing Witch Elected to Head EDS." Another called me "Fat Angry Dyke".
It doesn't bother me enough to lose sleep. It sometimes worries me what it means for the safety of the people I love who haven't signed up for this.
RS: What is the effect on you — this constant battle?
KRH: It's hard work; it is the emotional toll, the fury and the desperation on behalf of so many women who are in such dire straits. Instead of getting compassion, support and health care, their lives are compromised and often put at risk for someone else's political agenda. It's one of the reasons why my new favorite hobby is kickboxing – just a way to put some of that fury and thwarted passion into practice.
This interview has been edited and condensed for length and clarity. He first appeared in Wide view's October 2020 issue with the title "The fight of his life".
***
Roberta Staley is a Vancouver-based journalist and author.
---
I hope you found this wide view engaging article. The magazine and its predecessors have been published continuously since 1829. Today we face a crisis unprecedented in our 191-year history and we need your help. Would you consider a unique gift to help us through this emergency?
We are working hard to continue producing the print and digital versions of wide view. We have adjusted our editorial plans to focus on covering the social, ethical and spiritual elements of the pandemic. But we can only deliver wide viewaward-winning journalism if we can pay our bills. Right now, a single gift giving the right to a tax receipt is literally a lifeline.
Things will get better – we have already overcome adversity. But until then, we really need your help. No matter how big or small, I am extremely grateful for your support.
Jocelyn Bell
Editor/Editor