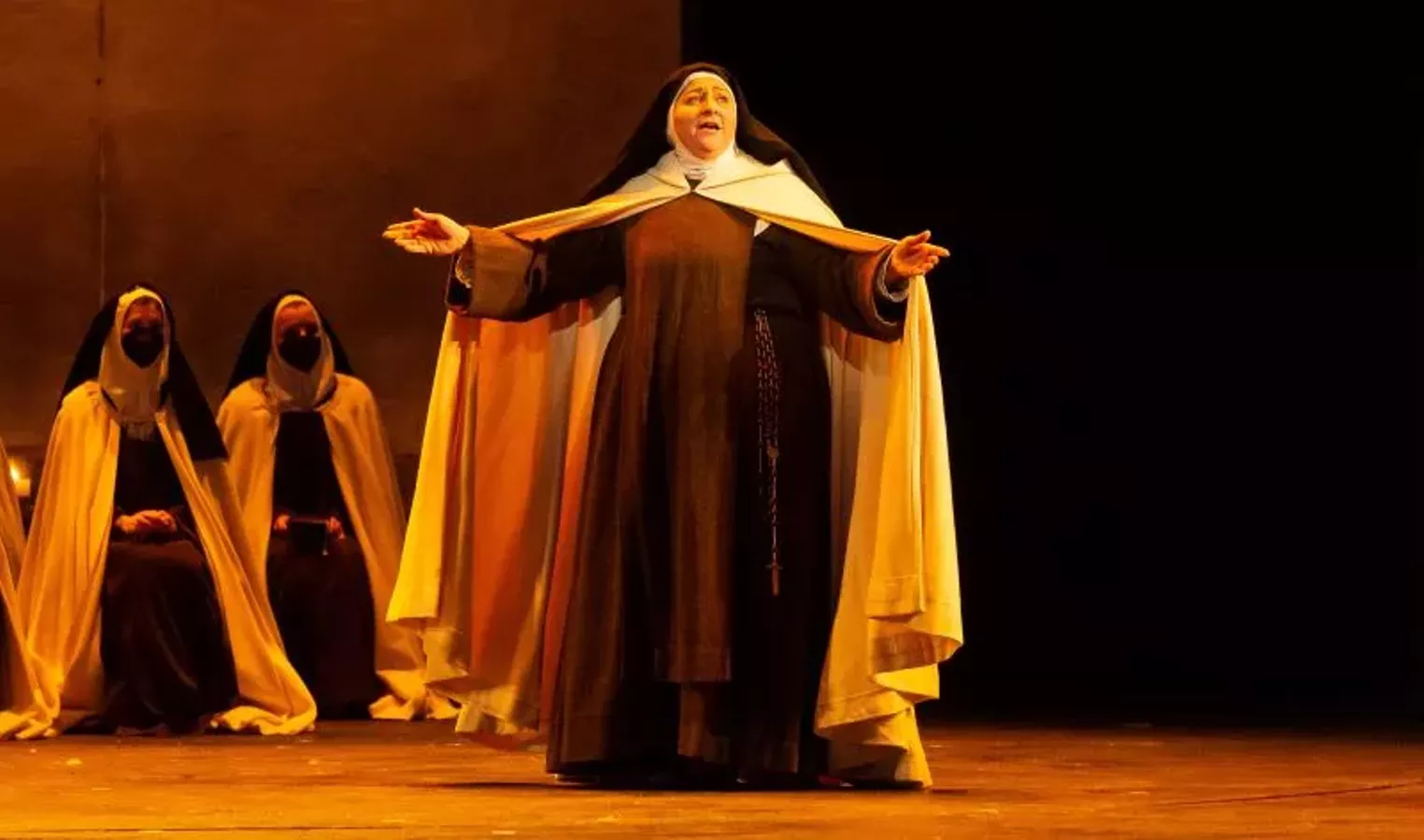 Preview: Dialogues des Carmélites at the Houston Grand Opera
Christine Goerke visited the graves in Paris – the final resting place of beheaded nuns during the French Revolution because, in fact, it was not just the wealthy who had much to fear from revolutionaries.
Goerke, the famous soprano, returns to the Houston Grand Opera to perform the role of Madame Lidoine in Dialogues of the Carmelites, the opera by Francis Poulenc based on the real story of the Carmelites beheaded during the last days of the French Revolution.
"I love this play, it's heartbreaking. It's an amazing play in itself because it really is a play." she says. "It's not going well. The spoiler is that it really, really isn't going well for the nuns."
The story centers on Blanche who comes from an aristocratic family and is terrified of being dragged into chaos and losing her life. She decides to enter a convent, considering it a haven of peace. Once there, Blanche was told by the prioress that she had not come to a refuge but rather to a house of prayer and that she had things to do.
Shortly after the death of the prioress, the French authorities closed the convent and expelled the sisters. "The people have decided that any organized religion is a danger to the state," Goerke explains. Blanche tries to keep her commitment but remains terrified of death. She wants to be faithful to the nuns and their beliefs, but she is not resolved on the idea of ​​an untimely death.
Welsh soprano Natalya Romaniw sings the central role of Blanche (who is in fact not a historical figure) while Goerke plays the role of the new prioress, a role she initiated 20 years ago in Japan where this production was staged for the first time. HGO's artistic and musical director directs
"The very first time I sang this role was over 20 years ago," Goerke says. "When I sang this for the first time and it is the Mother Superior, she is responsible for all her 'children' and all her daughters. But I was not a mother then. I am now. a mother and my character is the woman I represent, who has lived, she constantly talks about being responsible for her daughters and that she would never throw out her children.
"The hardest part for me is being able to maintain the line between emotionality and vocalism, because if you get too emotional it affects your speaking voice. It's pretty much the same when it comes to singing. . The line has to be walked very, very carefully in this piece because the emotions are very strong with the content. "
Asked about COVID precautions and fears, Goerke jokes, "We're all really living like nuns right now. We're going from rehearsal to our homes and that's it." Even though being a nun has its advantages. "It was cold in the theater last night. I was delighted to put on my coat."

Given the events of the past two years with the pandemic, Goerke says Dialogues couldn't be more timely.
"In the past two years, I don't know anyone who hasn't had to deal with fear and death. It's not exactly the same. We're not in the middle of the French Revolution. It's a fear. But we've all been through it, so it's really, really interesting doing this piece right now.
"There's that moment of grace at the end of this piece and it's not as much about religion as you might think. The whole piece focuses on how people relate to fear, this that people fear and what people think about death. "

Francesca Zambello, the international director of opera and theater, directs the production of HGO as she did years ago at the Matsumoto Festival. "Her and Pat Racette who is the former prioress and I created this production in Japan when it was brand new. So it's pretty amazing to be able to revisit this with the same people two decades later, "Goerke said. "It was created for the festival and it's such a simple and beautiful production that it has stood the test of time. "
"For me, he's one of the biggest," Goerke said. "Music, I'm a big fan of Poulenc. I think it's lyrical. I think it's beautiful. I think it's rich from an orchestra." She says she thinks one of the reasons it's not done often is because it's hard to throw. "I think there are a lot of loud voices in there."
"I have a feeling everyone would like this. If you think this is an article about religion, you are wrong. This is about history. This is about fear. is about managing relationships and your relationship with fear and death and redemption and finding grace in the little things. For me, it's finding the little beauties of life. And now we have to find the little beauties of the life. "
Performances are scheduled for 7 p.m. on Friday, January 14, 2 p.m. on Sunday, January 16, and 7:30 p.m. on Wednesday, January 19 and Saturday, January 22 at the Wortham Center, 500 Texas Avenue. Following COVID-19 security protocols, all members of the public will be required to wear a mask covering their nose and mouth whenever they are in the included building when seated for a performance. For more information call 713-228-6737 or visit houstongrandopera.org. $ 25 to $ 305.