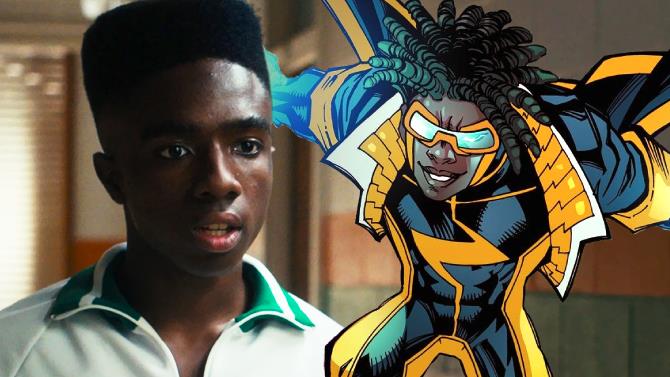 STRANGER THINGS Star Caleb McLaughlin "I'd Love To Play" DC Comics Superhero STATIC SHOCK
One of the stars of stranger things has expressed interest in taking on a superhero role and they even have one in mind!
Fresh off the fourth and penultimate season of Netflix's popular sci-fi horror series, Lucas actor Caleb McLaughlin took part in a Q&A session at Heroes Comic-Con 2022 in Brussels where he told those present (via RBC) that he would like to join the ranks of the DC Extended Universe, or any superhero cinematic universe for that matter.
We mention the DC Extended Universe in particular as McLaughlin cited DC Comics character Static Shock specifically as a role he would like to play. "What other movie would I like…I want to do a superhero movie," he began.
"I would love to play Static Shock honestly… I would like to do something like a superhero, or even something… it doesn't matter. I'm really open to being any character. I have I feel like I can play anybody honestly. really – I feel like how I choose my movies is really what speaks to me. Plus, I'm also developing other projects myself that will be released. Not soon, but soon. But yeah, it really doesn't matter actually. It's just all that looks like a project that speaks to me and my creativity."
Static Shock was originally created by Milestone Comics in 1993, but was brought into the DC Comics universe with the Final Crisis event in 2009.
Virgil Ovid Hawkins, whose superhero alias is simply static, has the power of electromagnetism, which basically means he can manipulate electrical and magnetic energy. He's been a recurring member of the Teen Titans over the years, but he's best known for leading the Static shock Animated series from the early 2000s.
It turns out that there is already a Static shock live-action film in development at Warner Bros. Discovery with Black Panther actor Michael B. Jordan producing and Ranky McKinnon (Bedroom) writing the script. Although there haven't been many updates on the project for a while, co-writer and artist for the upcoming Static: Dakota Shadows comic, Nikolas Draper Ivey, recently assured fans that this is still happening.
McLaughlin seems like a great fit for the role on first glance, but is there another superhero character you think he might be even better suited for? Sound off in the comments section.