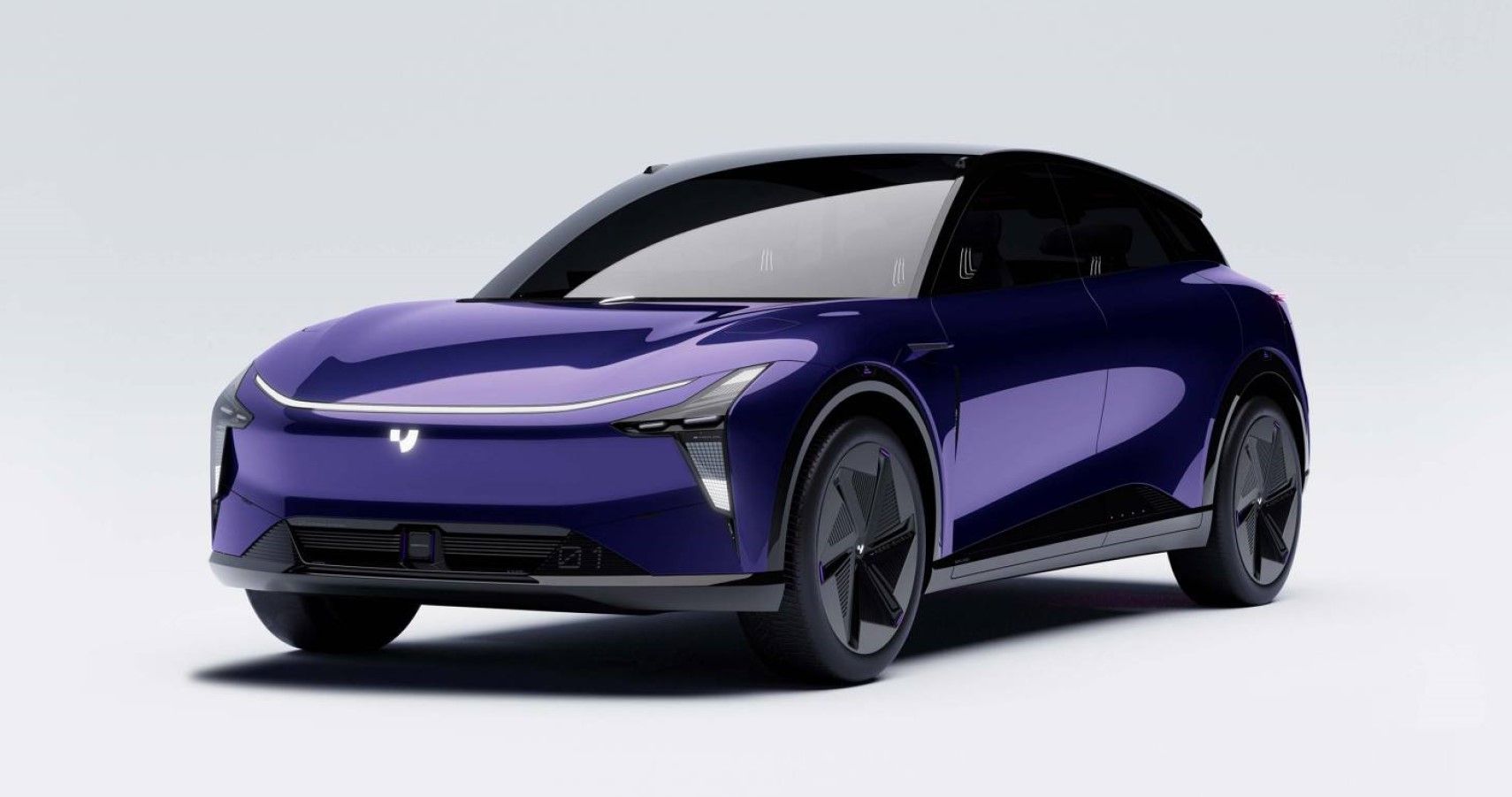 The JIDU ROBO-01 EV concept is a tech-savvy car with emotions
We were baffled to see Knight Rider's KITT interact like a human with Michael Knight. Well, this track is becoming a reality, sort of. Baidu is the equivalent of Google for China, and their ambition goes beyond the world of search engines and cloud computing. One of them is to make AI-enabled cars. Baidu and Geely have teamed up to make their futuristic dreams come true with JIDU. It is a new automotive company aiming to develop and manufacture smart electric vehicles.
Baidu owns 55% of the stake while Geely owns 45%. JIDU unveiled its first car – the ROBO-01. And as the name suggests, it really is a robocar. This AI computer on wheels uses two Nividia chipsets and a Qualcomm processor to power its physical brain. The ROBO-01 concept is said to be 90% ready for production, and we're impressed with how it looks. JIDU, of course, rolled out a crossover form factor, but the ROBO-01 is technically a high-end hatchback.
And with what the automaker has in store, the JIDU ROBO-01 production model will be quite affordable for such a fancy package, with prices starting at a $32,000 equivalent. The buzz around this robocar is about self-driving, and if all goes well, the ROBO-01 will be the world's first car with Level 4 self-driving technology. Artificial intelligence is the talk of the future and the JIDU Robocar is sure to make any tech-savvy 2022 electric cars look primitive!
Baidu and Geely have come together to create a real-life Knight Rider KITT with the JIDU ROBO-01.
Related: 9 Insanely Fast Chinese Cars You've Never Heard Of
ROBO-01 is a futuristic crossover with talking lights
The Jidu Robo-01 shows its futuristic appeal quite vividly to the eyes. This crossover has a sleek and sporty design with a strong emphasis on aerodynamics. The design is slick, but there's a level of sharpness that highlights each of its creases. The LED lighting set is strong and smart here. The front fascia features sleek dual-LED headlight pots with AI-induced pixel DRLs that push up and down.
These light pixels along with the light bar help the robocar visually communicate with a person. The lightbar works somewhat like an audio visualizer like the one seen when you activate Siri or Google Assistant on a smartphone. Bright pixels are used for a plethora of functions such as charging indicators and even displaying responses to commands, including "thumbs up!".
Enhancing its aero appeal are black aero-shield wheels and a retractable center spoiler at the rear. The rear LED lighting also gets the pixel treatment but isn't as vocal as the front setup. While everything is so futuristic and digital, Jidu decided to go easy on the color options with only three on the table – Star Porcelain White, Nebula Gray and Galaxy Purple.
Robocar Interior gets a gigantic screen and four seats
Entering and exiting the Robo-01 is quite lavish, thanks to the fusion of front scissor doors and rear suicide doors. The lack of a B-pillar makes getting in and out of this robocar an easy affair. The cabin contains four individual seats that stay true to its "futuristic" angle. The seats are quite sporty and have a comfortable construction with lights running through it, under the headrest.
The dash is technically a huge curved screen that houses the instrument cluster, infotainment setup, and all of the car's other functions, including climate control and exterior feature controls. Each end of the screen doubles as rear view cameras. It gets a yoke-like steering wheel that can fold up completely in stand-alone mode.
The brains behind all the computing power that puts things together is backed by DuerOS artificial intelligence software which features an adaptive learning algorithm. The physical brain includes a NIVIDIA Orin X chip and a Qualcomm 8295 processor. Both rows get a center console with touch-sensitive surfaces, most likely with window and seat controls.
Related: 10 Chinese Concept Cars That Could Change The Game
JIDU ROBO-01 cleverly hides its autonomous technology
Autonomous technology is the inevitable future of electric vehicles and the Jidu Robo-01 contains the most sophisticated technology of all. Currently, the only automaker to gain international approval for its Level 3 autonomous technology is Mercedes-Benz. And if things go well, Jidu with its robocar will be the first automaker to be approved for Level 4 autonomous technology.
The Robo-01 gets two pop-up Lidar sensors on either side of the hood. Each of these units contains 128 lasers and has a range of 656 feet. These two pop-up windows combined with twelve cameras, twelve ultrasonic radars and five millimeter wave radars provide increased levels of accuracy with a continuous scan of the car's surroundings while on the road.
This car's self-driving tech will be supported by a custom version of Baidu's open platform developed with its tech pals, called Apollo. Using machine learning and data accumulated over 16.7 million miles of self-driving, Jidu plans to make its self-driving technology the most accurate and efficient on the market. Finally, Tesla Autopilot will have top-notch competition.
Related: BYD Destroyer 05: The Chinese Plug-In Sedan With a Cool Name
JIDU ROBO-01 will go on sale in China by 2023
Jidu saying that Robo-01 is almost ready for production makes us all the more excited. And we think the cool door situation and the absence of the B-pillar make up the remaining 10% of its concept part. This, along with its powertrain layout, will be unveiled at the 2022 Guangzhou Motor Show, slated for November. Geely is ready to begin production of the ROBO-01 next year, with first deliveries expected by the third quarter of 2023.
Sources: Jidu, Jidu Weibo channel