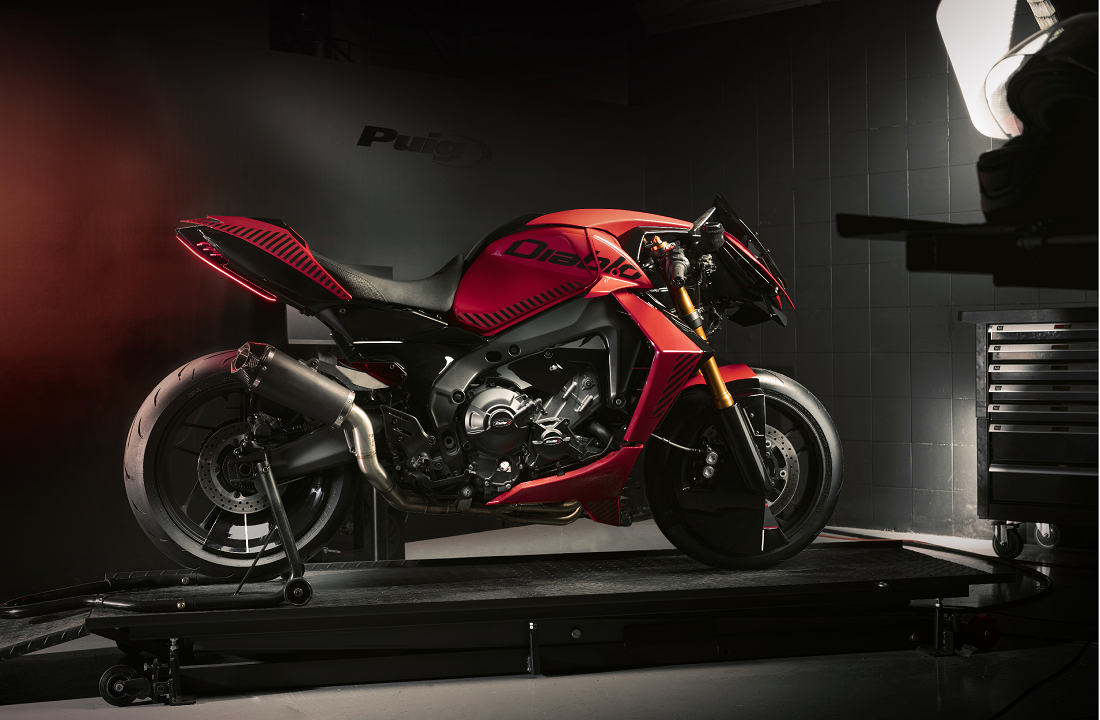 The Yamaha MT-09 SP can be a futuristic superbike thanks to…
HOW TO take a Yamaha MT-09 and turn it into a futuristic superbike? Well, ask Puig.
No, not Alberto Puig, the Repsol Honda Team boss, but Puig Hi-Tech Parts, the component manufacturer in Spain.
Their latest project saw them take a Yamaha MT-09 SP as their base and completely revolutionize its aesthetic to create a futuristic partially faired sports bike look.
Finished in red and with completely redesigned bodywork, Puig's Diablo even incorporates half covers on the front wheel, as seen in recent years on some MotoGP motorcycles.
Puig describes Project Diablo as "an exercise in creativity without limits" and, well, the images, in this case, really speak for themselves.
"Developed from a Yamaha MT-09 SP, Puig modified the riding position after an ergonomic study to improve aerodynamics and rider protection," says Puig. Additionally, the Diablo's aero package also incorporates "innovative moving wings", according to Puig, which Puig says "shape a dreamy naked motorcycle that delivers an enhanced riding experience and performance."
"It's the first time we have faced such a free design project, it has been a very interesting challenge and learning experience for the whole team which has allowed us to see what we are capable of doing and new design lines and many ideas for the future emerged," said Berta Perarnau, head of design at Puig.
Diablo's lead designer, Miquel Vallribera, said: "We wanted to open the discussion about what the motorcycle and accessories of the future might look like, showing how we imagine it at Puig and the result, the Diablo, I think. that is the perfect exponent. , with active aerodynamics, protection, functionality and aesthetics as design principles".